THE IDEA of the "great whacking schools" may conjure up an image of the 18th century, so it is good to remind ourselves occasionally that we have had equivalents in much more recent times.
Of course only a few such schools are ever publicised, usually by chance. Purley High School for Boys, in Croydon, might think itself unlucky, since it received national publicity when its c.p. statistics were revealed in 1977, even though it later proved to be by no means unique.
Croydon just happened to be the site of the headquarters of Britain's anti-CP organisation STOPP, and the London Borough of Croydon became the first local education authority (LEA) to be badgered into collecting and publishing statistics from its punishment books.
INSISTED HE TAKE A CANING
However, it is a little earlier that year that the school first appears in my press cuttings collection. 16-year-old John Alkins, just two weeks before he was due to leave anyway, was seen smoking at a bus stop during a break from exams:
"Although he was off school property and out of school uniform at the time, his headmaster, Mr. D G S Akers, insisted he take a caning because, he said, John was still infringing school rules ....." (Coulsdon and Purley Advertiser, 24 June 1977).
The boy refused the caning and was therefore expelled, though he was permitted to finish his exams. This storm in a teacup caused the local paper to be bombarded with letters from parents and pupils, every one of them supporting the school:
"SIR, -- ...it is our concern that boys in the school should adhere to its rules ... Boys here are expected to give their utmost ... there are no grounds for deliberately undermining the principles upon which the school is run. Even before boys come to the school, great pains are taken to ensure that they know what the school is about and how it is organised ... instead of airing the grievance of a small, ill-behaved minority, we would appreciate it if the positive aspects of school life could be emphasised ... -- Neil Rogers and 26 other Sixth Formers.
"SIR, -- The headmaster of Purley High School for Boys is to be congratulated on his stand against the current notion that people ought to be allowed to do exactly what they like and not be expected to face the consequences ... I feel sure that all thinking parents will applaud Mr Akers on his attitude to this matter ... -- Rita Newman (Mrs), Purley."
("Rules are not made to be broken!", Coulsdon and Purley Advertiser, 1 July 1977)
There was much more in similar vein, and so it was already clear, even before the main storm broke, that most of the local populace were right behind the no-nonsense Mr Akers in his scholastic methods.
Purley High is a former grammar school, by the 1970s a comprehensive, in a very well-heeled leafy suburban area. It is on the very edge of Greater London. Croydon has several single-sex secondary schools, some of which, unlike most of Britain, are split into two age ranges, 11-14 and 14- 18. Purley High is a 14-18 school, so ALL its 900 pupils are boys in the fourth and fifth form or various levels of sixth form.
CANE THE ONLY INSTRUMENT ALLOWED
On 12 December 1977, Croydon Education Committee's chairman broke new ground by releasing, at the request of members opposed to c.p., statistics from the borough's punishment books for school year 1976/7. As far as I can discover, this was the first time such revelations had ever been made in the UK.
The figures showed that 22 out of Croydon's 35 secondary schools had used c.p. (7 out of the 13 non-c.p. schools being girls-only). There were 1,324 punishment book entries in total, broken down into reasons for punishment, with the vague "breach of school rules" leading the field with 286 entries, but also including for example 113 for truancy, 81 for smoking and 69 for fighting. These 1,324 punishments (all with the cane, the only instrument allowed by Croydon's regulations) were inflicted on 760 pupils; 200 were caned on more than one occasion, so several of them must have been caned quite a lot more often than once.
Purley High's punishment book for two of the three terms of 1976/7 had been 'stolen', but it was clear from the school's figure for the remaining one-third of the year -- 144 canings, or an average of over two canings per school day -- that Purley was well in the lead: the next school in the league table, Overbury, recorded 240 inflictions of c.p. over the whole year.
All these novel facts were soon being raked over by the press, their attention having been drawn to them by STOPP (which issued a statement calling for a special government inquiry into Croydon schools). Purley High had little trouble justifying its policy:
"A headmaster yesterday defended his school's two-a-day canings of classroom troublemakers. Derek Akers, 51, who is at the centre of a storm over the use of the cane in schools, declared: 'I was caned at school and it did me good. It was a deterrent. I wonder if today's soft approach is paying off'.
"Mr Akers said: 'We had 300 new boys here last year and they were pretty difficult. I and other teachers use the cane only as a final deterrent, and then it is once or twice on the behind.'
"Mr Ted Everitt, Vice-Chairman of the school managers, said: 'I am a strong supporter of the use of corporal punishment ... and so are the majority of the pupils at this school'."
(News of the World, London, 1 July 1978).
Once again, the columns of local newspapers filled up with pupils, parents and teachers at Purley High rushing to the school's defence:
"SIR, -- I am a prefect at Purley High School for Boys and I can honestly say that the last four years have been the most enjoyable of my life .... In the eyes of many people Purley is the finest school in Croydon. -- David Driver, Coulsdon."
"SIR -- As the parent of a pupil at Purley High School for Boys, I am becoming rather weary of the group calling themselves STOPP ... Not only are the academic results of the school excellent, but the pupils' public behaviour in the streets and on buses in noticeably good. The boys know that if they deserve a caning they will get one and the effect is outstandingly satisfactory ... I would also point out that parents are aware before sending their sons to Purley High that caning does exist there and the fact that the school is greatly in demand speaks for itself. -- Anthea Shorter (Mrs), Coulsdon."
(Croydon Advertiser, 13 January 1978)
"SIR, -- I have been a pupil at Purley High School for Boys for three years during which time I have been a victim of that maliciously inflicted weapon, the cane ...One, two, occasionally three (very seldom more, unless the offender is some sort of habitual anarchist) strokes of the infamous stick can hardly constitute having the hell beaten out of you! ... the chairman of STOPP, Mr "Nick" Peacey, appears to be under the impression that the poor little waifs at Purley are all oppressed, and all simply aching for the opportunity to rise up and seize their persecutors by the throats ... Perhaps a guided tour of Purley would show Mr Peacey just how happy and contented the oppressed pupils are ... I feel I must also reiterate that, as Mr Peacey magnanimously agreed, Purley is a good school, a very good school. -- R.H. Lloyd, South Croydon."
(Croydon Advertiser, 27 January 1978)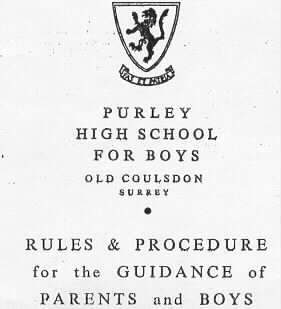 Purley High was certainly run along unusually traditional lines. Consider the school's 'Rules and Procedure for the Guidance of Parents and Boys', 1978 edition. They don't mention caning but they must have left the prospective parent and pupil in little doubt about the style of the place. Here are just a few extracts:
"Leave of absence is not given for attendance at holiday camps and treats arranged by
outside organisations, or simply for amusement, shopping or domestic convenience ..."
"Disorderly or discourteous conduct of any kind during School hours and on the way to
and from School is objectionable and, if serious, may be dealt with by very severe measures ..."
"Barter and money transactions among boys are forbidden ..."
"Eating in School, except at such times and in such places as are arranged for the purpose,
and in the streets, is forbidden ..."
"ALL boys, excepting prefects, must leave the School premises within
five minutes of the end of lessons or other approved activity ..."
"ALL boys must wear the school uniform, which consists of: School tie in maroon and gold;
Maroon blazer (single-breasted) with badge on pocket; Maroon and gold scarf; Maroon and gold pull-over;
Black shoes of a sensible shape; White shirt; Grey trousers.
"Boots, fancy pullovers, polo sweaters, black jackets, ankle length coats, fancy shoes,
double-breasted blazers, large lapel badges, jeans, drainpipe and flared trousers,
are considered unsuitable for school wear."
"Hair must be kept short and tidy. Rings and other jewellery must not be worn."
"Copying or the use of cribs are punishable as dishonesty."
"Amusement and social engagements are not acceptable as an excuse for neglect of prep.
Parents are asked to ensure that this is given first priority each evening."
"Games are compulsory for all boys. Parents are asked to put pressure on their sons
who try to avoid physical exercise without good reason."
"All boys are subject to the authority of the prefects during School hours and during travelling to and from school, but they have a right of appeal to the Headmaster against an order of punishment. Appeal against an order must not lead to delay in carrying out the order. The right to appeal against punishment must be exercised, if desired, before the punishment is inflicted."
TWO STROKES ON THE BACKSIDE
Interviewed in 1978 after he had been at Purley High for twelve months, one 15-year-old boy described the system of 'circuits' used for minor punishments -- running up and down a nearby hill called 'Happy Valley' for an hour or more. He went on: "The head always over-runs on his headmaster's lesson. I cut it just before the first half-term. I went to Mr Akers' office. There were three of us. He talked from 10.30 until 12.30. We were standing there. He insisted we should have the cane. I asked for a postponement and chose to be caned by Mr Davies. Mr Davies gave me 2 strokes on the backside with a cane. There was no-one in the room; it was after school. This was recorded" [in the punishment book].
The boy then described how he had been given a circuit for handing in a note too late, and then missed the assembly in which his circuit was read out. "If you miss a circuit you have to go to Mr Akers. He said I had to have the cane. I said I thought it was unfair. He sat me out in the hall and he called my parents in the afternoon. I sat outside and various teachers said I should be sensible and have the cane. It is not automatic if given a circuit that you go on the next one. You have to wait for your name to be read out, in assembly. After a lot of arguing with my parents they agreed that I should be caned. Mr Davies caned me, one stroke. Mr Akers was present ...The next time N---- and I did 2 up on a bike, the prefects chased us in a car and caught us in Chipstead Valley Road. They reported it and we were caned 2 strokes each by Mr Davies. Mr James witnessed it ...."
The mother of another 15-year-old boy described how her son had been 'gated' -- made to report at 8.10 every morning and stay for an hour's extra lesson from 4 to 5 p.m. This boy had been caned ten times during his first year at the school. His mother only realised this, she said, when she saw "heavy marks on his backside" as he was getting out of the bath.
An older boy, who started at Purley High in 1976, had been caned by four different department heads. One of these, Mr Wozniak, had given him 2 strokes on the backside with a long thick cane: "He has a variety; he made himself a little oblong box to keep them in". On that particular occasion all but two of the whole class were caned together for "mucking about". This master, he said, "takes two steps forward and hits you; some of the others take a running jump".
These accounts bear out Mr Akers' public claim that Purley High canings were usually "once or twice on the behind" but another boy, aged 17 in 1978, said he had had several 4-stroke canings and several 3-stroke ones, from Mr Akers himself and from year heads. This boy said he had received 10 canings during one term, summer 1977, and that many of these were never entered in the punishment book. So it seems likely that, as with many other schools where teachers are too busy to complete all the bureaucracy, the official figures considerably understate the true level of whacking. "On your school report it said how often you got caned": one of his canings had been for looking round in assembly. Others were for having the wrong colour socks, and for leaving the top shirt button undone on more than one occasion.
THE CANE FOR SIXTH-FORM BOYS
One of the most interesting things about the figures first released for Purley High was the revelation that occasionally the school even used the cane for sixth-form boys (who could be aged 17 or even 18). In 1976/7 there were six such canings.
As always the fuss quickly died down. Croydon LEA had decided to release punishment book statistics every year - a commendable example of 'open government' from a local authority that had no intention of abolishing c.p. But it was not until mid-1979 that the 1977/8 figures appeared. This time Purley High's punishment book had not been lost. Out of a total of 1,581 recorded canings in all Croydon's secondary schools that year, Purley High accounted for 394 - once again, an average rate of about two per school day. This time 13 sixth-formers had been caned, two of them on two separate occasions each, making 15 sixth-form canings in all. The press once more made the most of it:
"Parents backed a strict headmaster last night and agreed that caning at school gets results. And the head, Mr Derek Akers, under attack from 'spare the rod' teachers, said: 'I'm no sadist'....
"The critics, replied 53-year-old Mr Akers, are 'just troublemakers'. He added: 'People should look at my school and talk to the pupils -- 83 per cent of my 909 boys have NOT been caned' .... Mr Akers allows seven members of staff to cane boys aged 14 to 18 for offences like lying and swearing ...."
("Parents' message to head attacked over caning: Don't spare the rod", Daily Express, London, 13 July 1979)
"The cane is used about twice a day at Britain's Whacko Academy. The title goes to Purley High School, Croydon, where the big stick was wielded 394 times in a school year, says a survey ...
"Mr Akers said that pupils usually got two strokes of the cane, and, if a boy was caned more than twice, his parents were called in to discuss his behaviour. he pointed out that during a discussion he took a vote on caning among 150 fourth-year pupils -- and 145 were in favour ...
"An 18-year-old sixth former, wearing his school's red blazer with the motto 'Right and Country', said: 'The boys don't feel they got caned more than they should. I have been caned twice, once for foolish behaviour and once for being rude to a teacher ... I felt it was a fair punishment'.
"Another sixth-former, Chris Edwards, said: 'In general, I feel that the cane is fair. I went through a bad time in the fifth form, when I was caned five times. I thought that was unfair, but I believe there has got to be discipline. I accept it. This is a very good school.'"
("Whacko Academy! Head tells why his school tops caning league", The Sun, London, 13 March 1979)
The heavier papers gave STOPP's view more prominence:
"It [STOPP] says: 'Purley High seems to be a school obsessed with corporal punishment, having recorded almost twice as many canings as any other school in the borough. For the second year running, Purley High is revealed as the only school to cane sixth-formers, who are recorded as having "preferred" this punishment to being excluded from school for such relatively minor offences as smoking, rudeness and not telling the truth....'"
("Call by teachers to publish caning lists", The Guardian, London, 13 July 1979)
After all that publicity, the statistics for the next two years -- 1978/9 and 1979/80 -- do show a considerable drop, both for Croydon as a whole and for Purley High:
| | |
| --- | --- |
| | 1977/8: 394 (1,581) |
| | 1978/9: 186 (1,318) |
| | 1979/80: 168 (1,049) |
It might only be, of course, that teachers became even more forgetful about entering their punishments in the book. Or perhaps Croydon LEA brought pressure to bear on all its schools to cut back on the caning - there certainly seems to have been no wish by Purley High to do so of its own volition.
However, in 1978/9 Purley was joined by its equivalent school in the north of the borough, Selhurst High (another 14-18 boys' comprehensive), in caning sixth-formers. Three sixth-formers were caned at Selhurst and four at Purley. In fact Selhurst temporarily overtook Purley High at the top of the Croydon caning league that year, with 208 canings (up from 152 the previous year.)
STRICT ADHERENCE TO THE RULES
By the early 1980s many other LEAs had followed Croydon's lead in publishing statistics from punishment books. So the figures were no longer such a novelty for the press or public, and STOPP began to find it harder to stir up publicity against schools which -- it was now clear -- were not alone in making relatively heavy use of c.p. Thus, when Croydon issued its 1980/1 and 1981/2 whacking figures in mid-1983, it was only on the local paper that the weary hacks rose to the bait of the inevitable STOPP press handout:
"Purley Boys' High School was rapped by anti-corporal punishment campaigners this week ... But governors' chairman Mike Bonsier, himself a former pupil ... said the board and parents stood firmly by headmaster Derek Akers' policy of caning pupils for anti-social behaviour. 'The parents of boys who come to the school are very well aware before they come of the strict adherence to the rules which is required and of the sanctions that are applied when those rules are broken'."
("Canings at school rapped", Coulsdon and Purley Advertiser, 5 August 1983)
In those two latest years for which figures are to hand, Purley High maintained what STOPP's report called "a remarkable consistency", despite a continuing steady decline in the overall level of recorded c.p. for all Croydon secondary schools:
| | |
| --- | --- |
| | 1979/80: 168 (1,049) |
| | 1980/1: 166 (955) |
| | 1981/2: 166 (755) |
Most interestingly, the caning of sixth-formers -- which had stopped in 1979/80 - was resumed at Purley High in 1980-2. In 1980/1 three sixth-form boys were caned -- one for truancy, one for vandalism and one for 'breach of school rules'. The following year, 1981/2, there was just one sixth-form caning -- for 'assault on others'. I wonder if history will prove him to have been one of the last sixth-formers ever to be caned in Britain? Certainly there can have been very few UK state schools that officially whacked 17-year-olds as recently as the 1980s.
As to the other forms at Purley High: in 1980/1, 56 fourth-year boys shared 108 canings between them, while 42 fifth-formers received 55 canings. Put another way, 62% of the canings in that year (103 out of 166) were canings of boys caned on more than one occasion.
In 1981/2, the relative balance shifted a little towards the older boys: 58 fourth-formers were whacked (receiving 98 canings), while 47 fifth-formers shared 67 canings.
This conforms to quite a common pattern in school punishment book statistics: a relatively small proportion of pupils receive c.p., but many of those who do get it on a number of occasions in the year. STOPP always claimed that this shows that c.p. failed to deter those who got it from misbehaving again. But it seems to me that it simply shows that the majority of pupils were deterred from offending by news of other boys' whackings, while a minority of naughtier boys needed a second or third dose before the lesson was learned.
Purley High of course went on caning until national abolition for state schools in 1987. As recently as March 1986 the occasional fuss about it still blew up in the local press: 16-year-old David Capel was suspended for a week for refusing the cane following a pushing incident in assembly. STOPP launched its customary tirade, pointing out that there were still 84 canings recorded at Purley in school year 1984/85, out of a total by then of only 250 in Croydon as a whole. But Croydon education chairman Derek Loughborough said: "Parents like the atmosphere at Purley Boys and fully support the short-sharp reaction to undesirable bullying that might go on" ("Mum lashes school in row over pupil caning", Croydon Comet, 21 March 1986; "Mother blasts caning school", Croydon Post, 19 March 1986).
STOPP produced three reports containing the punishment book statistics for Croydon (among others) for 1976-82, entitled "How Often is Rarely? (1979), " A Quarter of a Million Beatings" (1981), and "Once Every 19 Seconds" (1983