DEREK AKERS NEWS!!!

- John Davis <see pic> discovered that he lives nears DOGS on the South Coast. He wrote to him on 5 July to ask for an interview for the website. Here is the latest news from our intrepid reporter < with exercise book down trousers and hair behind his ears > .
"As at today, I hadn't got a reply, so on a visit to Battle this afternoon I took the bull by the horns and went and knocked on his door!
Well...! The old chap was most affable and had penned half a reply to my letter which he gave to me. He's not 'up' on computers, but was dead keen to have a look at fasetpatria and friendsreunited. I attempted to log on for him but his freeserve account hadn't been used for a few months, so it wasn't possible. I agreed to go back and get him set up online.
He's now 76 and well immersed in various local good works in the community, including being Vice President of Battle Museum. He's still in touch with a few teachers, notably Ananin, Dicky Mant, Snake ("why did you call him snake" he asked me!!), Appleton, Crosskey.
I couldn't stay that long as they had their grandson down, but as I say, I'll see him again in the next couple of weeks. I'm sure he'll be up for a reunion in the autumn. I've taken a couple of photos, and will take some more next time."
Oer Missus-- what a treat to come ! Forget a Reunion - how about a Staff vs School Paintball Day ?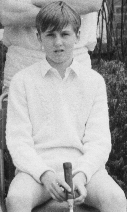 John Davis 1971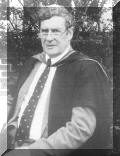 Derek Akers 1971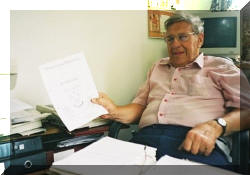 Derek Akers 2002