Up | The Staff Room | 1970 Nostalgia | About me | Ephemera | 1- Photos | 2 Photos | 3 Photos | 4 Photos | 5 Photos Rooms | 6 Photos Gym | Where are they now ? | menu | FAS ET PATRIA | THE 1970 PHOTO | Then and Now | Then and Now 2 | Then and Now 3 | Calendar 1970 | Canings | Guest book | History | Teachers | The Building | Old News | The Bourne 1970 | school reunion | The Buildings 2 | Then and Now 3


please add any memories of the below or any other teachers to the guest book ..click here
Here are a few of the Staff from those years....

Derek Akers is now retired in Battle in E.Sussex and would welcome a visit. Picture taken by John Davis 2002

Hugh Thomas
Geography and Rugby.

Any ideas where he is?

Let me know.

Richard Mant
History and "Careers" Officer < sounds of giggling >
Irene Ananin
French and Russian.

Still teaching somewhere on the South Coast !
Son Nicholas went to Purley in the 1970's.

Peter Yorke
Woodwork and Cricket.
He took early retirement and lives outside Chester.
Recovering from a serious stroke.

George Nicholson
Master of History and all round leader of the Staff Brat Pack. World at War pundit and expert on the capacity of Catherine the Gweat, Rasputins "physical" aspects and the gweat sexual appetite of Mussolini. Hmmmm...Oh ...Wrrrrreally !

Dave Shepherd. Head Boy in 1964, then teacher of Chemistry and any sport he find. He is still a teacher in Croydon.

Kingsley Gregory - the star of the Geography Department and the world's only sufferer of Pelvic Erosion.

click on his card to see in detail

More Teachers Details:
#3 Edward Stachak
Famous for his cross armed stance and iron rule over the Library. He built it up from nothing to over 10000 books, not all of which were thrown into the Tennis court below through the open sash window.
A man of few words- and those were in Latin. Other memories of " Staks" should be emailed to me for publication here.

TEACHER DETAILS Number 4 Victor Gilbert 1910 - 1972




Aye Laddie. We all liked Vic- with his white
whiskers and green velvet jacket he always seemed
more like one of us than one of "them".

I am not too sure how we ever learnt French - Vic
always seemed more interested in telling us about
Googly techniques and how he was one of the first into Belsen Concentration Camp. The latter have made us better people-keep the French!

Who remembers him forcing his pipe into his jacket pocket and then slowly smouldering into a full fire before someone told him he was ablaze?
Vic was rated 3/5 as a teacher in the confidential
records.
If you have anymore Vic Gilbert memories please put them
in the Guest Book or email them to me for publication!
Staff Records continue....


Arthur Charles Loveland

-

Cringe


Feared by all, Cringe lurked in the lower dark corridor opposite the Art Room. No one ever witnessed him using any form of corporal punishment- his stare was enough to reduce all to jelly. Rarely was he challenged or outwitted.
J. Cross : Sir, would you punish me for something I haven't done?
Cringe: No, of course not. I am always fair minded.
J. Cross: Glad to hear that Sir, I haven't done my homework.
Back row: Payne Nicholson Stackak
Front :'Old Hutch' Hutchinson, George "Anus" Winter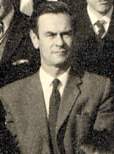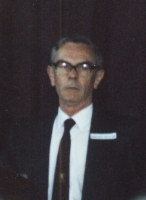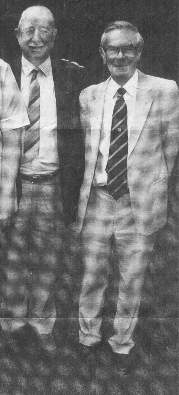 Bill Rainforth in 1970...................above in 1988............ and above right 2001
Thanks to eagle eyed Martyn Hoffman for the news. Thanks to Horne Bros of Croydon for providing him with a shirt that has lasted 32 years.
A poor quality photo from a current local paper shows Bill Rainforth in retirement. He has just presented £2000 to a cancer charity. Bill was known for his sarcasm, the standard of which was always better than his knowlege of History. He retired as Deputy Head.

The only teachers left from the early 1970's - Les Blythe, Michelle Maitland and John Sutherland.
Picture taken March 2002



Michelle taken in the Tudor Rose Pub 1975

What is this man running for?

One of the rarest photos on the Web. Here we see George Nicholson in action in 1960 running past the newly constructed bike sheds. Some observers believe he was running towards the Junior Showers in time to catch the 1a ablutions in order to lecture the pubescents on Nazi perversions. Others believe he was speeding towards the Staff room having discovered the Tank Top later made famous by Frank Spencer. Any other suggestions?